The Billing page allows you to easily manage your billing information, upgrade your plan, change your payment method, or download receipts. Here are the instructions for managing billing on a particular plan.
Termius plans overview
Termius offers three paid plans - Pro (formerly Premium), Team, and Business - each with unique features not available in the free Starter plan. All the paid plans are available only as subscriptions. Here's a quick feature comparison of all the available plans:
Pro: Perfect for individual users who need advanced SSH features.
Team: Designed for teams that need to collaborate on remote access.
Business: Built for organizations with complex IT infrastructure.
For a complete plan comparison, you can just check the Pricing page.
Note: Students can have free access to all the benefits of a Team plan with the GitHub Student Developer Pack.
Purchasing a Pro plan
You can purchase a Pro subscription in several ways - on the Billing page or in app stores such as Google Play, App Store, and Microsoft Store. Once you've purchased a subscription, you'll have access to all the paid features on any device and in any Termius app, as long as you're logged in to your Termius account.
See also: What happens when my Pro subscription expires?
Purchasing a Team or Business plan
You can buy Team or Business subscriptions on the Billing page with a card or by requesting a quote. You can easily upgrade from Pro to Team and Team to Business with the "Upgrade" button on the Billing page; you'll receive credits for the unused time when upgrading.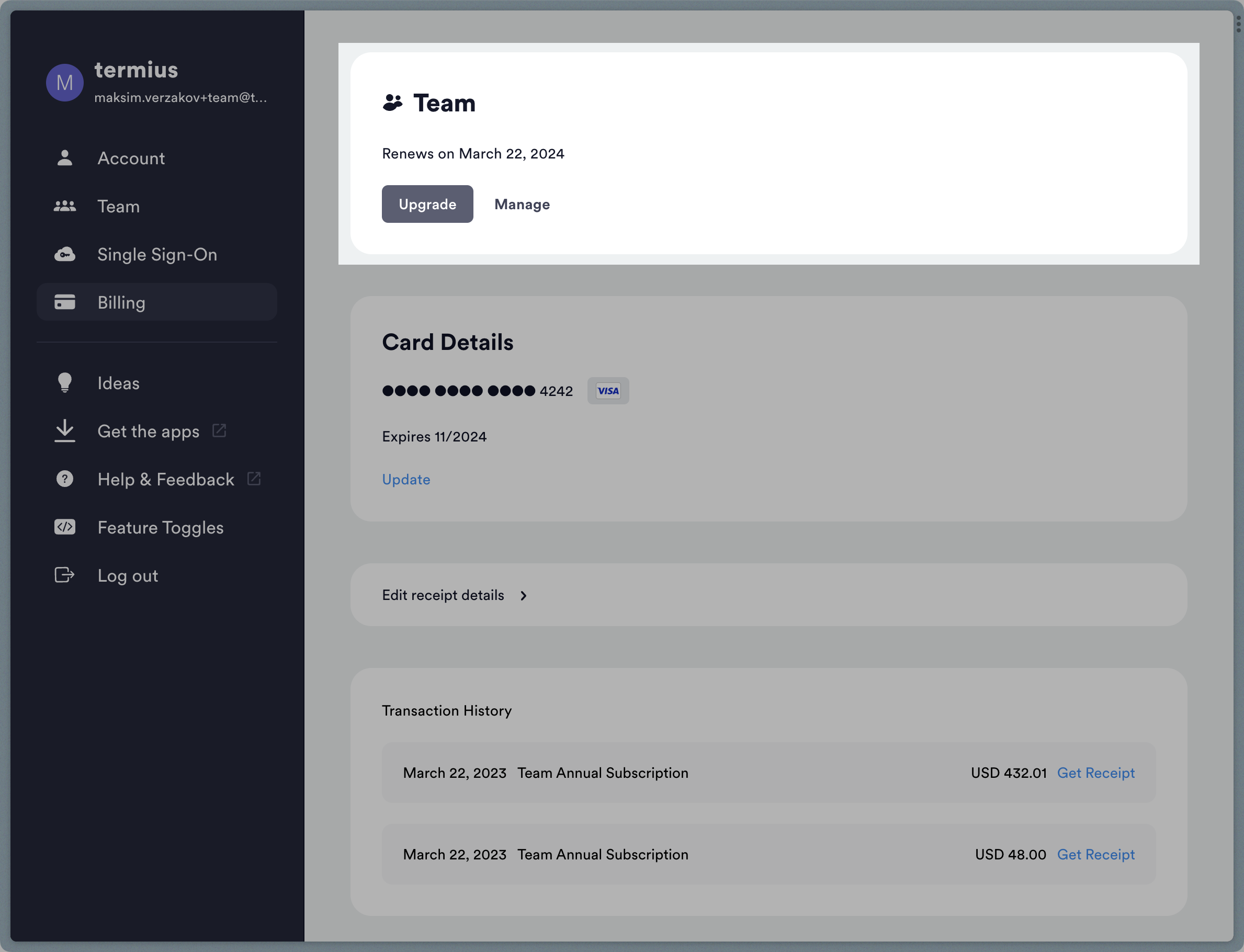 Adding or removing seats
The number of seats increases automatically when you add a team member for whom there's no seat available. If you're paying from an invoice, seats can be added via a support request. Removing a member doesn't affect the number of seats in your plan. If you need fewer seats to reduce the subscription cost, please get in touch with Termius support.
Getting receipts
You can download receipts for subscriptions purchased from the website. Click "Get Receipt" next to a transaction in the Transaction History section of the Billing page.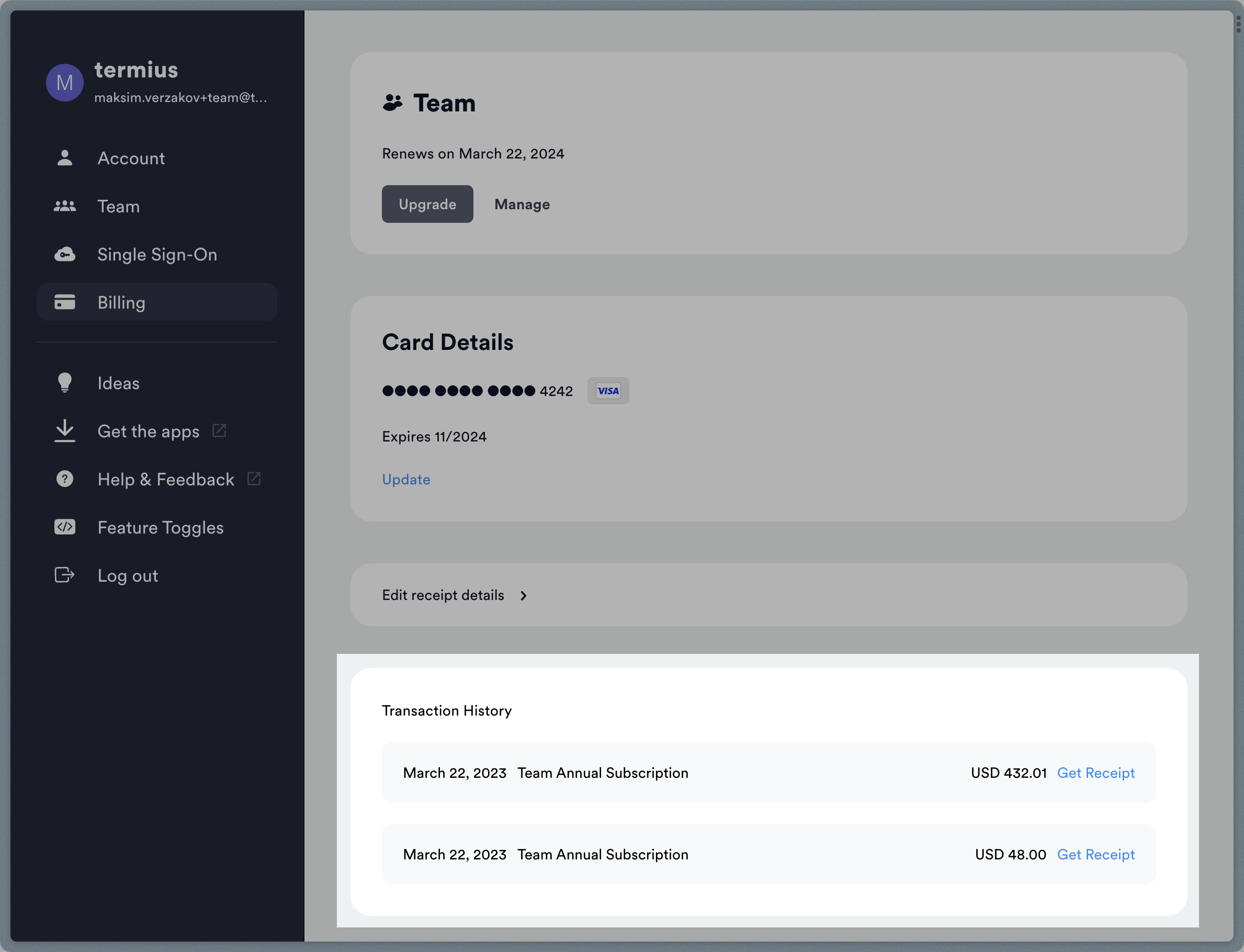 In the Edit receipt details section, you can specify the information you want added to the receipts, like company name, address, and tax ID (VAT and such).
Changing payment method
You can update your card details for all subscriptions purchased on the Termius website. For subscriptions purchased in PayPal, Google Play, App Store, and Microsoft Store.

Switching to annual payments
Switching to annual payments is available for all subscription purchases on the Termius website. The billing period of Pro subscriptions purchased in stores can be changed in App Store and Microsoft Store.

Note: To switch the billing period of a subscription purchased via PayPal or Google Play, you must cancel it first, wait for the end of the billing month, and then purchase the annual subscription.
Cancel subscription
To disable auto-renewal and cancel a subscription purchased from the website, choose "Manage subscription" on the Billing page. Subscriptions purchased in third-party stores can be canceled in the corresponding stores.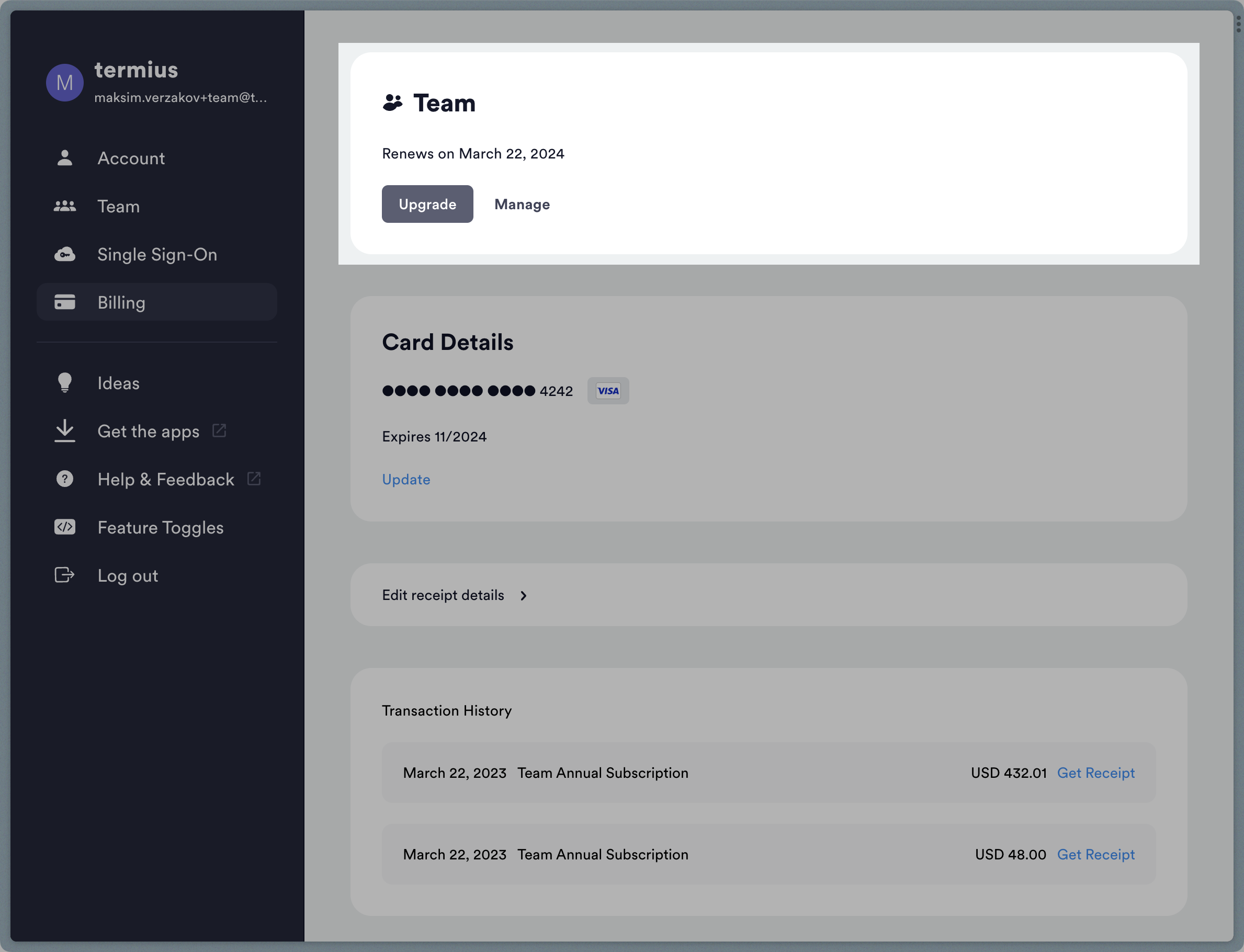 If you have any questions or concerns, please feel free to reach out to Termius support. We're always here to help you manage your billing and make the most out of your Termius plan.

Frequently Asked Questions:

Will I receive a renewal invoice via PayPal? Yes, an email via PayPal will be sent to you to log into your account to view your invoice. Please note: the email will be sent to your PayPal account email address if different from your Termius Account email address.
44
-24
Was this article helpful?
10 out of 44 found this helpful